Informations about the medicinal spa
The building of the thermal indoor spa was completely rebuilt in 1999. In the modern two-storey building therapeutic capacity has doubled. Four new pools has built, in which new attractional services help visitors to recreate. These outdoor pools are surrounded by spacious corridors.In the big hall of the spa you can enjoy the basic spa cure in the indoor pools with different water temperatures (32 C, 36 C, 38 C).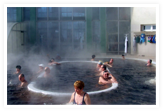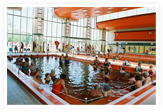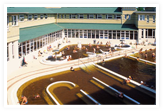 In autumn of 2002 the Thermal bath's hall had been developed. It had been realized with Széchenyi Plan financial aid.A new floor had built onto the Thermal bath, in which there are some new therapy rooms for the guests of neighbouring Hunguest Hotel Aqua-Sol. Downstairs left hand side you can find three consulting rooms and a gym for physiotherapy. Upstairs there are some spacious relaxing and massage rooms. You can rest in a separated par
Those with an aversion to natural ways of healing will surely change their opinion if they get treatments in the Hajdúszoboszló Medicinal Spa. Here more and more people recover because of thermal water. This medicinal water can mainly help to recover rheumatic ills. The cure is effective for those suffering from chronic locomotor disorders, degenerative illnesses and locomotor disorders of surgical, neurological, internal and dermatological origins. Patients having gone through orthopaedic operations return regularly to get follow-up treatments. We have also achieved good results with patients recovering from cerebral haemorrhage or paralyses following the Heine-Medin illness as well as with treatment for chronic neuralgia and neuritis stenoses and leg ulcers often start to heal as a result of the treatment.
The water has a good effect upon gynaecological inflammation, too. After two or three cures a year childless, infertile women could become pregnant on several occaisons. This is explained by the oestrogen, which is found in the water.
At our spa you can get more than 40 kins of treatment, such as, massage, mud treatment, weight bath, physiotherapy in water and soft laser treatment.
Contact
About Hajdúszoboszló
SZÉP kártya